Tarjama's linguistic AI and Neural Machine Translation meet world-leading linguists in a simple, cloud-based platform that delivers optimized content for businesses.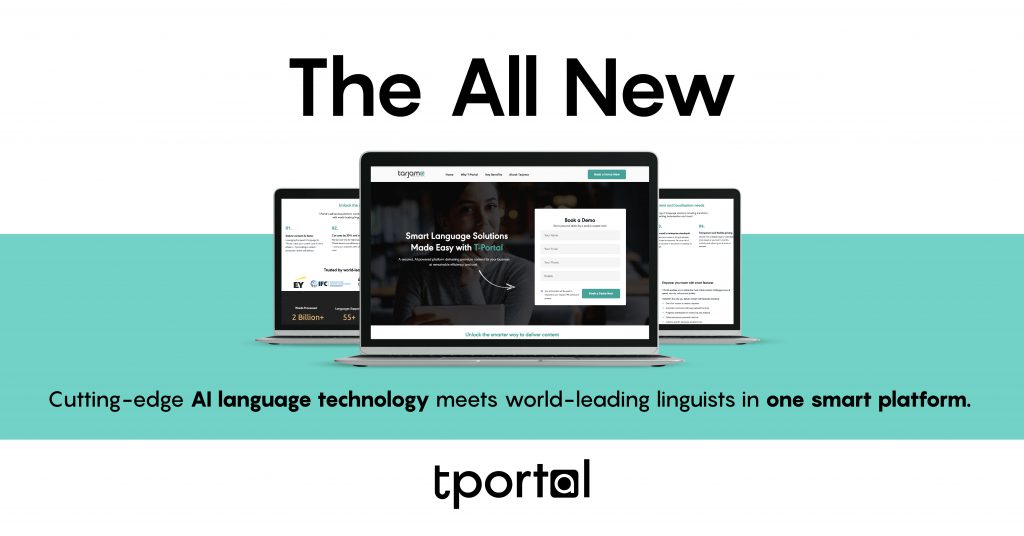 Dubai, UAE – 20 December, 2020 – Tarjama, the MENA's leading provider of smart language solutions, today announces the release of T-Portal, its new smart language platform that offers a better way for businesses to directly access secured, world-class language services.
T-Portal enables companies to cut the cost and time spent across their content cycle while delivering reliable and consistent quality. Through the cloud-based platform, customers can access an end-to-end range of language services and easily manage, track, and optimize their multilingual content needs.
Content requests made on T-Portal are assigned to Tarjama's in-house professional linguists who are assisted with the company's patented award- winning language technology including Machine Translation, Translation Management System, Auto-Transcription, and Auto-Subtitling.
T-Portal's tech-powered human delivery coupled with the automated and hassle-free briefing process results in faster, cheaper, and better content for T-Portal customers. The platform uses a variety of advanced machine-learning functions to provide customers with a seamless automated experience.
"T-Portal is smart, simple and brilliant. What sets T-Portal apart is its integration with Tarjama's highly advanced neural machine translation engines that are trained on pre-approved and domain-based data," says Tamer Al Nasser, Chief Technology Officer at Tarjama. "Our MT can produce remarkably high-quality output that accommodates to domain-specific language, style, and context – allowing our human linguists to focus on perfecting quality and creativity for our customers."
Tarjama's machine translation technology, which is accessed through T-Portal, is the first-ever Arabic machine translation technology built on professional Arabic linguist data. Using Arabic data across over 200 industries and in-depth knowledge of language structures, Tarjama's NMT models deliver high-quality translations for companies across all industries.
T-Portal is built with the strictest security standards, making it highly suitable for businesses in regulated industries. With flexible subscription plans based on each team's monthly translation and content needs, businesses can scale up and down as their needs change. 
To experience the Self-Service Language Platform for yourself, you can visit: T-Portal
Key features of T-Portal include:
– One-click, hassle-free access to content requests
– Automatic wordcount with easy upload/download 
– Progress dashboards for monitoring and analysis  
– Online and secure payment methods 
– Industry-specific language professionals 
– Tech-enabled delivery that optimizes cost and speed 
– Quick chat that connects you with linguists 
– Flexible subscription packages and transparent pricing 
– Support for all types of content requests and formats  
"We are extremely excited to be launching this advanced tech-driven platform featuring accuracy, speed, and flexibility – all key ingredients in today's business environment," Nour Al Hassan, CEO at Tarjama said. "Our vision with T-Portal is to empower teams by simplifying their content delivery process and improving efficiency, thereby reducing cost and time-to-market for our customers."

Through T-Portal, customers can get a full range of content and language services including:
– Language Services: Translation, MTPE (Machine Translation + Post Editing), Localization, Transcreation, Editing, Proofreading, Interpretation 
– Audio & Media Services: Subtitling, Transcription, Hard coding 
–Content Services: Copywriting, Scriptwriting, SEO Writing, Technical Writing, Blog Writing, Social Media Content Writing 
Ready to transform your content delivery process with T-Portal? Book a Demo Now
About Tarjama: Tarjama is a smart language solutions company helping businesses grow their global presence with seamless, enterprise-grade content. Tarjama enables its customers to optimize the quality of their multilingual content while reducing costs and time-to-market through its patented AI language technology. The company offers a full range of language solutions that support the global growth of companies – including translation, localization, transcreation, copywriting, subtitling, transcription, and much more.